The Rupununi Trails Team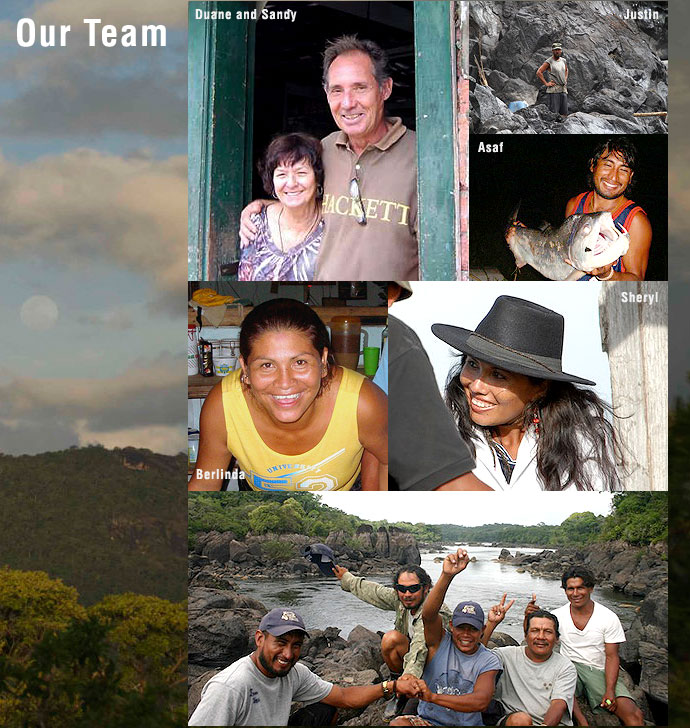 Rupununi Trails was created by Duane DeFreitas along with his wife, Sandy. Orginally from Georgetown, Duane moved to the South Rupununi in 1969 and worked as a vaquero on Dadanawa Ranch. It was here that the cowboy lifestyle opened to him a unique view of the land and wildlife, and a strong interest in exploration and conservation began to evolve. Often fondly referred to as "Haggar" by the crew, Duane has a sharp wit and remarkable sense of humor. Although he loves the ranch life, Duane truly becomes himself on these jungle trips. His keen eye for spotting wildlife has allowed him to develop into an exceptional photographer, and his photo archives could rival those of any professional. Armed with his Nikon D200, Duane has captured stills and film of just about everything, from endangered jaguars and harpy eagles to black caiman. Duane is also a skillful handler of rattlesnakes, a hobby that once led to a collection of snakes and several bites. With his 41 years of experience in the Rupununi, Duane has a vested interest in conservation and an incredible wealth of knowledge about the jungle and its wildlife. He understands that successful conservation entails sharing these wonderful ecosystems with others.
Often referred to as "Mums" or "Aunty Sandy", Sandy DeFreitas is the co-founder of Rupununi Trails and mother to all. Anchor to Duane the bushman, Sandy completes this formidable duo. She moved to the Rupununi to join Duane in 1974 and is the administrative guru of Dadanawa Ranch, responsible for everything from planning and logistics to outfitting the expeditions with gear and rations. Your trip often begins with Sandy seeing you off in the morning with a hot flask of coffee, and ends with her greeting you by the river as you make your final dock, offering a cold case of beer and an embracing smile. Sandy is an incredible hostess who goes out of her way to make sure your visit is as comfortable and memorable as possible.
Justin DeFreitas is the archetypal wild man, with a wit and sense of humor matching that of his father's. Justin helps to run Rupununi Trails. Always the trickster, he often has funny stories and is a great communicator offering incredible grasp of a wide range of topics. Justin grew up in the Rupununi, and as a young boy was familiarized with both the wildlife and the people. Well-known and fondly regarded, he feels at home just about anywhere in the region. Justin is conscious of local knowledge, wider concerns of conservation, and the forces of change which are shaping the region's culture and wildlife today. He is the creator of the South Rupununi Conservation Society (SRCS), a group that discovered the region's Red Siskin population, and is heavily involved in monitoring the species and mapping out a roadmap for its survival. He is one of the captains and guides of our river trips, and ensures that you are always in good hands.
Berlinda Francis and Sherill Xavier are women who often accompany the crew as cooks. Beautiful and tough, these women hold their own with the men while on the river, for instance carrying equal shares on portages across rapids. Both Berlinda and Sherill are from local Wapishana villages. As you wake in the middle of the jungle from the sunrise or the distant cries of howler monkeys, Berlinda and Sherill are ready to greet you with coffee and breakfast. They rise at 3AM and retire at about 11PM, ensuring that you are well-fed throughout the day with a hardy breakfast and lunches packed for day trips. Accompanying their light rustlings are often quiet whispers and gentle laughs as the women share a joke. The meals prepared are delicious and fresh, usually consisting of fish caught from the river that day. They are good-hearted, warm and sometimes shy, but the latter only belies their contagious senses of humor. Both are skilled fisherwomen, and have a wealth of cultural knowledge and keen insight. When asked, they often offer a different perspective from their male crew counterparts.
Asaph Wilson is often playfully referred to as the "Original Indian" or "Yangare" by the crew. He will be one of your tour guides on the trip. Asaph is from the Wapishana village of Katoonarib and grew up with Justin. Asaph's knowledge of wildlife and birds is unmatched in the South Rupununi. He has the impressive ability to distinguish bird calls in the deep jungle, and he keenly spots birds, iguanas, and other creatures disguised by the rainforest canopy. His knowledge is gained both from his learning of scientific names and recorded habits, as well as the local Wapishana names and their traditional bird stories. An avid conservationist, Asaph is also a skilled hunter and is extremely knowledgeable of the movements and habits of many jungle creatures. He always has a story or joke and is constantly entertaining those in his company.